1.MSGM Strapless Printed Duchess Satin Dress & Coat.
Ok. I've been drooling over clothes and shoes and bags and accessorizes since 1985. But right now, something different is happening. This print… I can exchange my all wardrobe for this dress. And for the coat with the same print. Actually I might start saving FOR THE FIRST TIME in my life for this beauty. I'm serious.
2. Judith Leiber Carousel Evening Bag.
How fun!
seen here.
3. Poet Sofa by Finn Juhl.
" Finn Juhl designed the Poet Sofa (1941) for use in his own home, located in Charlottenlund, a rural area north of Copenhagen. Today, the Juhl house – which is an early example of open-plan design and offers views to its garden from every room – is part of the Ordrupgaard Museum. Being connected to the landscape was something that Juhl both lived and practiced, and the influence is notable in the organic forms of his furniture. Being a true sensualist, Juhl created his furniture to be comfortable, made with the best craftsmanship traditions and showing an appreciation of materials. This original is an authentic, fully licensed product of Onecollection, House of Finn Juhl™. Made in Denmark. "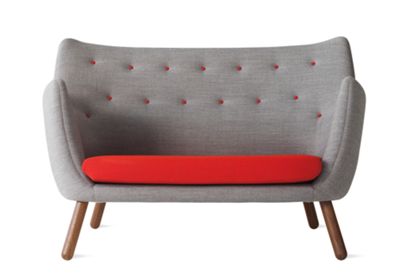 seen here.
4. Cook's Books Set.
Only as a decor…
" This set of 5 brand new books includes:
The Essential New York Times Cookbook: Classic Recipes for a New Century by Amanda Hesser

James Beard's American Cookery

Joy of Cooking, 75th Anniversary Edition

Gourmet Today by Ruth Reichl

Cook's Illustrated Cookbook by America's Test Kitchen "
seen here.
5.The Magus First American Edition.
It's published in 1965 by Little, Brown & Co.It has a bookplate signed by John Fowles. Pure love…
seen here.