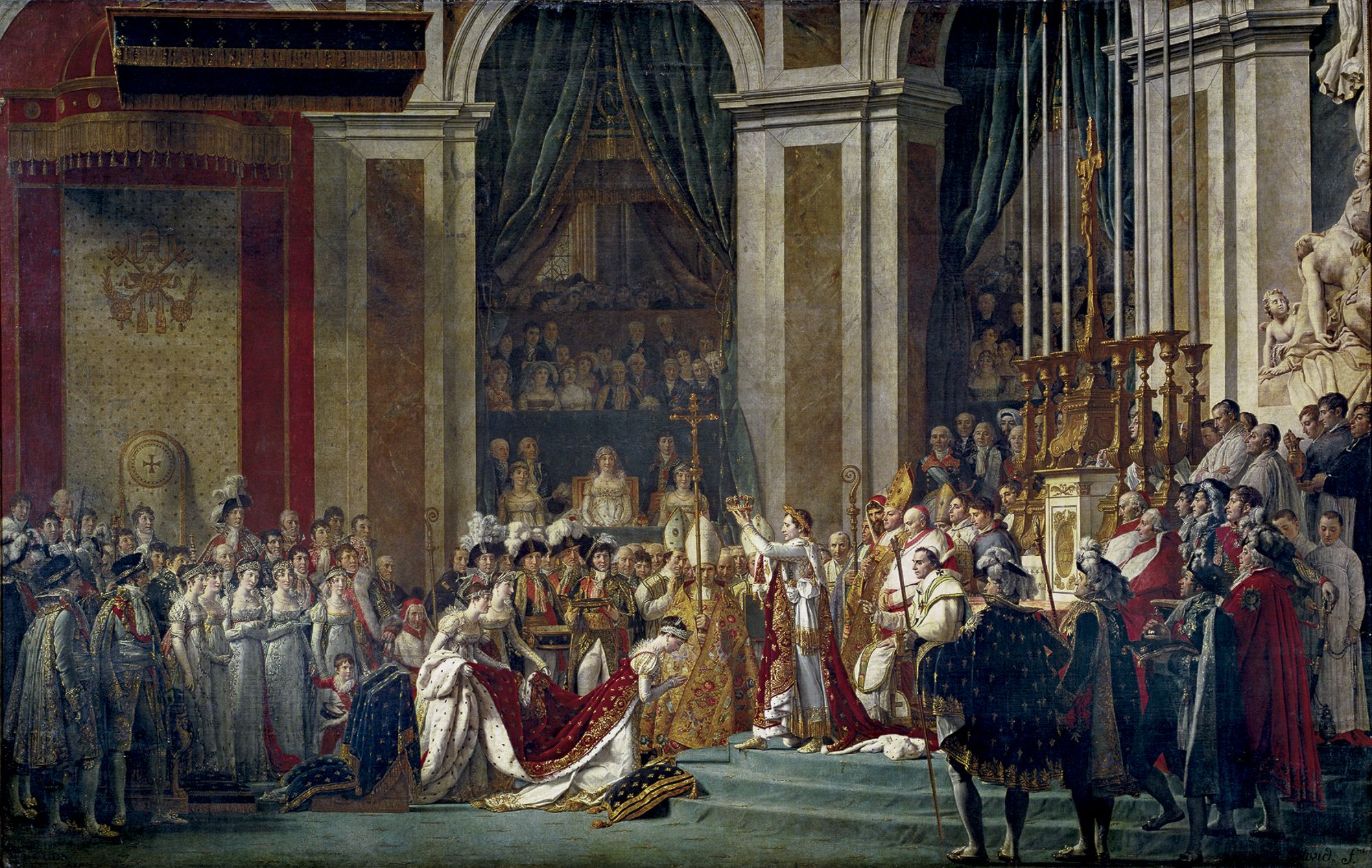 A very well-known and a very favorite of mine again. This time I'm proud to say it's a painting I could see personally; Sacre de l'empereur Napoléon Ier et couronnement de l'impératrice Joséphine dans la cathédrale Notre-Dame de Paris, le 2 décembre 1804. And with its shorter and English title; 
The Coronation Of Napoléon.
Napoleone di Buonaparte is one of my favorite personalities in history. I'm not going to write all about his biography here so, let's talk about this sensational story of this amazing painting. 
It's painted by Jacques-Louis David in 1807, who is an eminent and well-known French painter. He painted Napoléon even before he became the first painter of the imperial court. The one thing that strikes the moment you see this painting is, its size. It is huge. 10 meters wide, 6 meters tall, to be exact. Though it's called The Coronation Of Napoléon, in this painting, J.L. David depicted the act of Napoleon who coronates the Empress Joséphine de Beauharnais. 
The sensational fact of this coronation ceremony was, Napoléon snatched the crown from the pope and placed it on his head himself just as he crowned Josephine. Since he had hostile relationships with Rome and with the previous pope, it seeded the hostility with the new one.
The ceremony took place in the Cathedral of Notre-Dame de Paris on December 2 in 1804. and J.L. David was allowed to watch it and most of the participants posed for him. Also he reconstructed the scene in his studio with cardboard models and wax figurines. It's said that the ceremony and the painting were quite resembling though there are a few "manipulations". For instance, on Napoléon's order, J.L. David included Napoleon's mother, Letizia Bonaparte in the painting although she refused to attend to the ceremony and wasn't there. Like as his brother Joseph Bonaparte. If you wonder who is who, you can see a detailed explanation here in Wikipedia's page.
There are quite a few analysis and essays on this coronation ceremony and the painting because of the bold act of this tiny man. As I said he's one of my favorite historical figures. And this painting in front of which you can spend hours is a must-see. I can't wait to see it again.